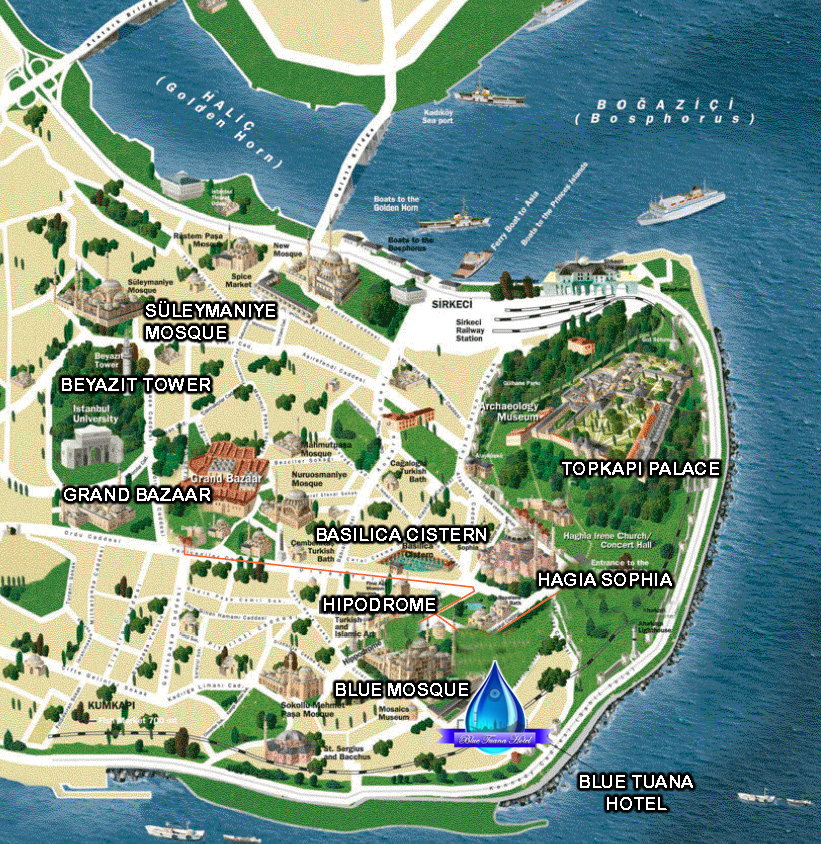 "PRIME LOCATION IN THE OLD CITY CENTRE, ISTANBUL"
Sultanahmet Square:
3 minutes walk
The Walled Obelisk :
2 minutes walk
The Serpent Column:
2 minutes walk
The Obelisk of Theodosius :
2 minutes walk
The German Fountain:
2 minutes walk
The Basilica Cistern:
3 minutes walk
Blue Mosque :
2 minutes walk
Hagia Sophia Museum:
2 minutes walk
Topkapi Palace :
2 minutes walk
The Spice Bazaar:
10 minutes walk
The Covered (Grand) Bazaar:
10 minutes walk
The Covered (Grand) Bazaar:
10 minutes walk
PICK-UP SERVICE:
We can arrange for a shuttle service to collect you from the Ataturk and Sabiha Gökçen airports and Esenler bus station. Simply contact us with your arrival details a minimum of 24 hours before you are due to arrive and we can make the necessary arrangements. You can email the Blue Tuana Hotel for further details regarding our shuttle service.
Alternative transport options: 
Directions from Sultanahmet tram stop:
1. Walk downhill towards the Tourist Information office. They are open during the day and can help direct you to the hotel. If not:
2. Walk through the park towards the Blue Mosque.
3. Pass in front of the Blue Mosque on your right.
4. Walk downhill. You will see Mavi Ev (Blue House) Hotel on the corner. Turn right as the road curves.
5. Take the first road on the left. You will see numerous carpet shops.
6. Walk down the road and then take the first road on the right and then go straight ahead and take the first right.
7. Blue Tuana Hotel will be around the corner on your left .
Don't be misled by offers of alternative accommodation — there are many people working on commission who get paid to take you to unpleasant accommodation.
Ataturk Airport:
Take the Metro to Zeytinburnu. From there follow the signs to the tramway. Take the tram in the direction of Kabatas to Sultanahmet and follow the above directions.
Sabiha Gökçen Airport:
You can take a shuttle bus to Taksim. For more information on bus times visit the Havas website (http://www.havas.net/en/shuttle-parking/istanbul-sabiha-gokcen-airport/ ) . From Taksim, you can take a taxi to our hotel or take the funicular to Kabatas and then tram to Sultanahmet. Once in Sultanahmet follow the above directions
Esenler Bus Station:
Take the Metro from Esenler Otogar to the Aksaray metro station. Once you exit the station you will see signs directing you to the nearest tram stop, Yusuf Pasa. Catch the tram going in the Kabatas direction. Follow the above directions once you reach Sultanahmet.
Sirkeci Train Station:
Take the tram opposite the station in the direction of Zeytinburnu (away from the water) to Sultanahmet and follow the above directions.